Garden Tours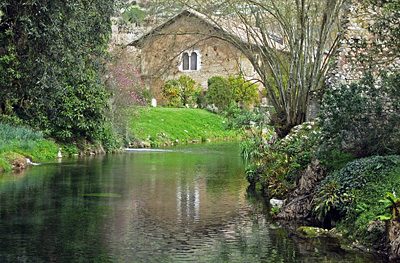 Ninfa and La Landriana
Ninfa is an enchanting place of captivating beauty. Once a wealthy medieval town owned by the Caetani family, it was eventually transformed into one of Europe's most Romantic gardens by three generations of Anglo-American women who recognised its uniqueness and dedicated time and love to its creation. Ruins of the old town, cut through by a crystal clear river, form the framework for rambling roses, a nostalgic mixture of native and exotic trees and a summer villa set against the dramatic limestone hills of the Monti Lepini. By contrast, the position of La Landriana couldn't be in a less promising location and yet hereby lies its fascination: the layout includes both formal Italian gardens and flowing informal spaces; the garden's charm derives from the way these two entirely different concepts are blended effortlessly. It was Russell Page who managed to convince Marchesa Lavinia that true creativity lay in the design of the garden and in 1967 he was invited "to impose a structure on this disorder". His designs still form the basic layout with hedging dividing a succession of garden "rooms" (30 in all), each characterized by original plant groupings chosen for both colour and form. Finally here we have a garden for gardeners, full of ideas, imagination and small-scale solutions taken beyond the realms of the ordinary.
Stone Monsters and Formal gardens
The 16th century was a time of immense experimentation and discovery. Nobles, bishops and cardinals competed to catch one another's attention by creating gardens around their rural properties. The "Sacred Wood", with its unsettled atmosphere haunted by monsters and mythical creatures carved out of stone, is a place of pure fantasy and folly, nestled in the woods under the town of Bomarzo. In contrast, just down the road sits the formal perfection of the Villa Lante, with its serene parterre and water channel flowing along the entire length of the garden, a celebration of purity and harmony. This excursion can easily be combined with a swim in one of the nearby volcanic lakes.
Tivoli: Hadrian's Villa and Villa d'Este
In the summer months Rome is very hot so the rich and famous moved out to Tivoli, a hilltop town 17 miles east of the city. The Emperor Hadrian built his sumptuous villa here, the ruins of which are still breathtaking, and in early summer the wild flowers create an enchanting scene. Later Cardinal d'Este built his famous villa here and his gardens have become synonymous with pleasure and extravagance. His use of allegories in the garden's design will test your familiarity with the ancient myths.